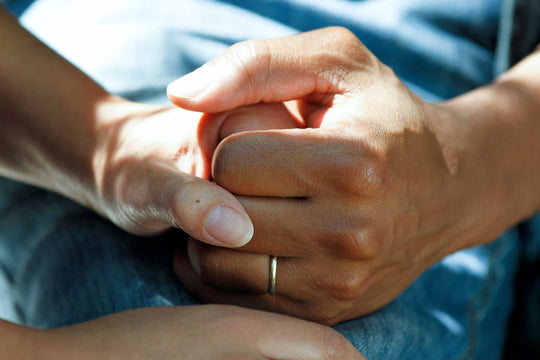 Community Stories: Malnutrition in Hospitals
Sperri gratefully welcomes Tracey Frimpong, RD to the Live Well Blog to share real stories from the front lines of the healthcare community. Tracey works as a clinical dietitian at a hospital in Ontario. She shares the important reality of tackling malnutrition in Canadian hospitals. 
With a scarcely-funded healthcare system, overworked essential workers, and increasing acuity of illness; nutrition often is not seen as a contributing factor to malnutrition. From 2021-2022, there were approximately 2.9 inpatient hospitalizations across Canada, which was an increase from the previous year of 2.7 million visits.
What we did notice during the first year of the pandemic was how Canadians' relationship with nutrition had changed. Taking supplements, eating "superfoods", and doing everything to prevent illness. Malnutrition is a widespread issue in hospitals and other healthcare settings, affecting millions of people worldwide. 
And malnutrition does not start within one's hospital stay, but usually it starts within the community. Approximately, 1 in 2 patients that are admitted into hospital are malnourished.
When it comes to malnutrition the first image that may come to mind to someone is "World Vision", chronic inadequate intake, food insecurity, "skin and bones". Yes, these can be factors which can cause someone to be malnourished, however malnutrition affects people of all shapes and sizes.
Malnutrition occurs when one has a lot of disease burden and poor dietary intake. It occurs when a person's body does not receive the necessary nutrients it needs to function correctly.
Other factors which may impact malnutrition include mental health limitations, polysubstance abuse, dysphagia (problems with swallowing), decreased appetite, lower socio-economic status, medical treatment, and the list goes on.
Being in hospital and not being as health literate can often be scary. All of the beeping sounds, medications you can't pronounce, and moreover the change in your dietary regimen. There are many issues which impact malnutrition in hospitals, but here are four key issues which can further exacerbate malnutrition.
Patient's must remain NPO "Nothing by Mouth" for procedures, diagnostic imaging, or surgery. This can sometimes last for days. 
Nutrition support such as enteral or parenteral nutrition is not initiated quickly
Hospital menu selection can get boring and patients often get fatigued by the options provided. Different hospitals have different foodservice systems, and may function on a weekly menu or set "restaurant" style menu.
Dietary restrictions. Imagine having to follow a texture modified, renal-diabetic, halal diet in hospital. Sometimes you get sent only two types of meals during hospital stay or even get meal trays which are inadequate to meet your needs.
Within 30 days of hospitalization malnourished patients are 6.5x more likely to die.
After one's hospital stay, only one in ten patients discharged from hospital see a dietitian in the community. 1 in 4 adults lose weight, and in geriatric patients (>65 years) 1 in 3 are not meeting their nutritional needs.
It is important from hospital to community that we support those who require nutrition support and help them monitor their appetite and weight. Without this support in the community, malnourished patients are two times more likely to be re-admitted into hospital.
Moreover by tackling malnutrition it can:
Contribute towards decreased mortality - Having appropriate nutrition counselling, evidenced-based dietary interventions, and oral nutrition supplementation improves intake and quality life
Decrease healthcare costs - Malnutrition can often increase the length of hospital stay by 3 days! In Ontario alone, this can result in costs of $2 billion dollars annually. Moreover, when $1 is spent on nutrition interventions it can save up to $99 by reducing hospitalization and medication administration. 
This nutrition month the motto is to "Find a Dietitian" because what Dietitians do is help connect science and nutrition to help people meet their needs, and moreover this theme emphasizes the different ways to access a dietitian by reducing barriers.
As a dietitian, I always emphasis the importance of a food first approach to prevent weight loss and avoid muscle loss and nutrient deficiencies. Having 3 meals a day with snacks and high protein options is crucial. Yet, not everyone is capable or able to meet their nutritional needs orally from food alone. Therefore, thorough nutrition care plans with interventions can help to optimize one's nutritional status. 
In conclusion, malnutrition is a prevalent issue in hospitals that can have significant consequences for patients' health and well-being. However, there are strategies that hospitals can employ to identify and address malnutrition effectively. Which includes screening patients, providing appropriate interventions, and prioritizing nutrition as a key aspect of patient care. By taking these steps, hospitals can improve patient outcomes, reduce healthcare costs, and promote overall health and well-being.
Follow Tracey Frimpong on social media @thatblackrd and read more on her blog at thatblackrd.com.
­Sources:
Allard, Johane P et al. "Malnutrition at Hospital Admission-Contributors and Effect on Length of Stay: A Prospective Cohort Study From the Canadian Malnutrition Task Force." JPEN. Journal of parenteral and enteral nutrition vol. 40,4 (2016): 487-97. doi:10.1177/0148607114567902
Canadian Institute for Health Information. Hospital stays in Canada [release summary]. Accessed March 3, 2023.
Curtis, L. J., Bernier, P., Jeejeebhoy, K., Allard, J., Duerksen, D., Gramlich, L., Laporte, M., & Keller, H. H. (2017). Costs of hospital malnutrition. Clinical nutrition (Edinburgh, Scotland), 36(5), 1391–1396. https://doi.org/10.1016/j.clnu.2016.09.009

Health Reports, Vol. 24, no. 3, pp. 3-13, March 2013 • Statistics Canada, Catalogue no. 82-003-X
Howatson, A., Wall, C. R., & Turner-Benny, P. (2015). The contribution of dietitians to the primary health care workforce. Journal of primary health care, 7(4), 324–332. https://doi.org/10.1071/hc15324

Munk, T., Bruun, N., Nielsen, M. A., & Thomsen, T. (2017). From Evidence to Clinical Practice: Positive Effect of Implementing a Protein-Enriched Hospital Menu in Conjunction With Individualized Dietary Counseling. Nutrition in clinical practice : official publication of the American Society for Parenteral and Enteral Nutrition, 32(3), 420–426. https://doi.org/10.1177/0884533616688432

Singer, P., Blaser, A. R., Berger, M. M., Alhazzani, W., Calder, P. C., Casaer, M. P., Hiesmayr, M., Mayer, K., Montejo, J. C., Pichard, C., Preiser, J. C., van Zanten, A. R. H., Oczkowski, S., Szczeklik, W., & Bischoff, S. C. (2019). ESPEN guideline on clinical nutrition in the intensive care unit. Clinical nutrition (Edinburgh, Scotland), 38(1), 48–79. https://doi.org/10.1016/j.clnu.2018.08.037
Deutz, N. E., Matheson, E. M., Matarese, L. E., Luo, M., Baggs, G. E., Nelson, J. L., Hegazi, R. A., Tappenden, K. A.,
Ziegler, T. R., & NOURISH Study Group (2016). Readmission and mortality in malnourished, older, hospitalized adults treated with a specialized oral nutritional supplement: A randomized clinical trial. Clinical nutrition (Edinburgh, Scotland), 35(1), 18–26. https://doi.org/10.1016/j.clnu.2015.12.010

Optimising early nutritional support for medical inpatients. Philipp Schuetz, Zeno Stanga, Beat Mueller. Published: December 07, 2019DOI:https://doi.org/10.1016/S0140-6736(19)32617-0

Keller, H., Allard, J., Vesnaver, E., Laporte, M., Gramlich, L., Bernier, P., Davidson, B., Duerksen, D., Jeejeebhoy, K. &
Payette, H. (2015). Barriers to food intake in acute care hospitals: a report of the
Canadian Malnutrition Task Force. Journal of Human Nutrition and Dietetics. Advance Online Publication. doi: 10.1111/jhn.12314

Naithani , S., Thomas, J.E., Whelan, K., .Morgan, M., & Gulliford, M.C. (2009). Experiences of food access in hospital. A new questionnaire measure. Clinical Nutrition, 28(6),625–630. doi: 10.1016/j.clnu.2009.04.020 Untitled Image of Patient Eating. Retrieved from http://tinyurl.com/ngqsq6