General FAQs
Frequently Asked Questions
Sperri is Canada's first organic plant-based meal replacement. Sperri provides all of your daily nutritional needs in an easy-to-consume beverage. Sperri was developed in Halifax, Nova Scotia by a team of health professionals using the most up-to-date evidence based research.

The term 'meal replacement' is defined and regulated by Health Canada, specifically under the Food and Drug Regulations. These regulations outline specific requirements and standards that meal replacements must meet in order to be marketed and sold as such. The specific requirements include but are not limited to: caloric content, specific ranges of 24 vitamins and minerals, fat content, protein content and quality, and a linoleic to linolenic fatty acid ratio.  

Sperri meets all of the nutritional requirements set out by Canada's Food and Drug Regulations, making it a complete plant-based meal replacement. Sperri is also suitable for sole-source nutrition and provides all of your required macro and micronutrient needs. For further information on Canada's regulations, please visit: https://laws-lois.justice.gc.ca/eng/regulations/c.r.c.%2C_c._870/page-83.html#h-574120 

Sperri was created through the collaboration of Dr. Mary Lynch, a physician and pain specialist based in Halifax, Nova Scotia, along with the team at Novagevity. Dr. Lynch noticed that many of her patients required meal replacements for proper nutrition but struggled to tolerate existing options due to high levels of processed sugars, milk, and soy proteins. Unable to find a suitable product in the Canadian market, Dr. Lynch approached Gregg Curwin, an experienced entrepreneur, and together they embarked on the development of Sperri. Additionally, a group of gastroenterologists and dietitians contributed to the development of Sperri, ensuring it would be well tolerated by individuals with gastrointestinal complications.

Sperri was developed by a diverse team of physicians, dietitians, and food scientists in Halifax, Nova Scotia. Sperri is currently manufactured, produced and shipped from Ontario!

Gregg Curwin, our CEO, loves to spend his free time on a beach in Nova Scotia called "Sperri". Sperri beach is where Gregg discovers tranquility, clarity of mind, nature and so much more. He wants consumers and caregivers of Sperri to feel rest assured that they or their loved ones are receiving nutrition of the highest quality, providing you and your patients with peace of mind.
What's Inside Sperri?
Yes, Sperri contains all plant ingredients and is 100% vegan.

Sperri uses often hard to find plant-based forms of Vitamin D3 (Cholecalciferol) and Omega-3 (Algal Oil) to provide all essential nutrients.

No, Sperri is free of all common allergens including Eggs, Milk, Mustard, Peanuts, Crustaceans, Fish, Sesame seeds, Soy, Sulphites, Tree Nuts and Wheat.

Yes, Sperri is completely free of gluten and gluten containing products.

Yes, Sperri has been approved Organic Certified by PRO-CERT

Yes, Sperri is verified by the Non-GMO Project to be certified to not contain any genetically modified ingredients.

We have chosen to utilize a combination of pea and hemp protein in Sperri due to their individual completeness as proteins, containing all 9 essential amino acids. Moreover, hemp protein offers highly beneficial nutritional properties for human health, while the sensory qualities of pea protein contribute to an excellent blend of both health and taste. The combination of hemp and pea proteins also offers complementary advantages to ensure the protein in Sperri is rich in all 9 essential amino acids. It is worth noting that Sperri is the sole product in the Canadian meal replacement market that incorporates hemp protein.

We use a combination of Maple Syrup and Tapioca Syrup to sweeten our products. Many currently available meal replacements use highly processed sugars, artificial sweeteners or sugar alcohols, and we feel strongly about using natural ingredients in Sperri. These natural sweeteners also provide some additional vitamins and minerals to add to Sperri's nutrition composition. 

Sperri products are Certified Organic and are therefore held to a higher standard and do not contain any MSG, BHA, propylene glycol or GMOs. We carefully source our natural flavours based on quality and flavour. They are all vetted through an approval process that allows them to be used in organic products.

DHA, short for docosahexaenoic acid, is an essential omega 3 fatty acid that is primarily found in fatty fish and algae. Omega 3 fatty acids are crucial for various functions and health benefits in the human diet. Research has indicated that supplementing with DHA can enhance memory and reaction time, safeguard brain functions during stressful periods, and protect against age-related brain cell loss. In Sperri, the DHA is sourced from algae located off the coast of Nova Scotia, making it 100% vegan and more environmentally sustainable compared to DHA obtained from fish. Interestingly, fish obtain their Omega 3 from consuming algae, so by choosing Sperri, you can be confident that you are directly obtaining it directly from the plant-based source!

DHA stands for docosahexaenoic acid, an essential omega 3 fatty acid, and can be found primarily in fatty fish and algae. The DHA in Sperri is sourced from algae off the coast of Nova Scotia, is 100% vegan and is more sustainable than DHA derived from fish. Studies have shown DHA supplementation can improve memory and reaction time, protect brain functions during times of stress, and protect against age-related loss of brain cells.

There is no caffeine in Sperri products.

Sperri's ingredient list and nutrition facts table can be found here.

As a Canadian company, we try to source Canadian ingredients where possible. Our hemp protein powder, hemp oil, maple syrup and DHA-algal oil are all Canadian grown ingredients. Additionally, the DHA-algal oil in Sperri is sourced from algae grown off the coast of Nova Scotia- we love local! 

Our pea protein in Sperri is grown and harvested from the United States and Canada and is one of the highest quality pea proteins on the market. This pea protein is an isolate, not a concentrate, which provides a higher protein content with lower levels of potential allergens or irritants.   
Who is Sperri For?
Sperri is suitable for anyone over the age of 2. Sperri is suitable as the sole replacement for all meals in those over the age of 18. Anyone under the age of 18 (but above the age of 2) can consume Sperri as a meal, however, it is not fully suitable as a replacement for all meals, as the nutrition requirements for children are different than adults.

Certainly! We have conducted testing on Sperri at a lab to determine its FODMAP content. The findings indicate that consuming 150mL of Sperri aligns with the requirements of a low FODMAP diet. If you or your loved one can tolerate Fructans, it is likely that you can consume a full bottle or even multiple bottles without any issues. If you have any questions or concerns speak with your dietitian/physician.

Sperri is suitable for vegetarians, vegans or people with a common allergen. We use 100% vegan plant products and contain no common allergens.

Sperri has been specifically developed to address gastrointestinal issues, particularly Inflammatory Bowel Disease (IBD) and Irritable Bowel Syndrome (IBS). We have taken great care to exclude any ingredients that may be detrimental to individuals with compromised GI tracts, such as milk products, carrageenan, sugar alcohols, high fructose corn syrup, and high fiber ingredients. We have a significant number of satisfied consumers with IBD and IBS who have reported positive experiences with Sperri. Additionally, the pea protein used in Sperri is of the highest quality and is an isolate, making it more digestible and better tolerated in those with digestive complications than protein concentrates.

Our current line of Sperri offers different fiber options to accommodate the various phases of IBD. Both our Strawberry and Vanilla Maple flavors contain 1g of fiber per serving, making them suitable meal options during the flare-up phase. On the other hand, our Chocolate Sperri contains 3g of fiber per serving (due to the addition of cocoa powder), making it more appropriate for consumption during the remission phase. 

Additionally, Sperri is low FODMAP at 150mL to meet the needs of those with IBS. We have also refrained from using sugar alcohols, lactose, and gluten in our products. 

Yes, Sperri does not contain any gluten or gluten-containing ingredients and therefore is safe to consume for those with celiac disease.

Yes, Sperri is safe for those who are pregnant as it does not contain caffeine and it is a nutritionally balanced beverage. It is always recommended to speak with your doctor if you are pregnant to ensure you are receiving adequate prenatal vitamin and mineral supplementation.

Sperri is indeed a suitable option for those diagnosed with cancer/undergoing cancer treatment and we have a significant number of patients with cancer who rely on Sperri. Sperri is certified organic and plant-based making it a great alternative to current meal replacements on the market that may not meet your dietary needs. Sperri is also mild in flavour so if you are having an aversion to sweet foods than Sperri would better suit your taste buds. Additionally, Sperri is significantly lower in sugar content, using about half as much sugar as leading meal replacements.

Sperri does not contain any animal products or by-products, making it suitable for those following a vegan/vegetarian Kosher lifestyle. Sperri products are not currently certified Kosher, however the vast majority of ingredients in Sperri are certified Kosher. Moreover, our manufacturing facility is certified Kosher, and we are in the process of obtaining Kosher certification, which will further validate our commitment to providing Kosher products.

We have not proceeded with the vetting process of suppliers for Halal certification, however Sperri does not contain any animal products or by-products. Moreover, our manufacturing facility is Halal certified, and we are exploring the process of obtaining Halal certification.
How Can Sperri be Consumed?
Sperri offers the flexibility to be consumed as a complete source of nutrition (sole-source nutrition) or as a supplement to existing meals. It can be added to meals to enhance their nutritional content or enjoyed directly from the bottle. If you require Sperri for all meals, it is important to have a dietitian or physician supervising your diet. For the best taste and texture, we recommend serving Sperri chilled by refrigerating it. As we like to say, simply Chill, Shake, and Enjoy!

Sperri is a suitable option for tubefeeding as it can be used as a sole-source of nutrition as it meets the nutritional requirements of Canada's 'Formulated Liquid Diet' Regulations. Patients across the country have successfully utilized Sperri for tubefeeding/ home tubefeeds to meet their nutritional requirements. Patients/ dietitians who have used Sperri for tubefeeding have had to dilute the formula with water to prevent clogging. If you are interested in using Sperri for your tubefeeds please reach out to your dietitian/physician.

Yes, for those over the age of 18, Sperri meets the Food and Drug Regulations to be used as a replacement for all daily meals. If you are considering using a meal replacement for all of your meals, it is important to have a dietitian or physician supervising your diet.

Sperri can be heated in baked goods, in coffee, or if preferred warm and still maintain its nutritional value. When Sperri is manufactured it is heated and tested afterwards and it still holds its nutritional value.

If you wish to extend the 24-hour period after opening, freezing your Sperri is a viable option from a food safety standpoint. Freezing the remaining portion will not compromise its nutritional value, although we have not conducted specific tests in this regard. For short periods of freezing, the nutritional value should remain unchanged.

At the moment, we do not have a collection of tested recipes using Sperri. However, we are actively working on compiling one. Many of our customers are adding Sperri to their coffee, oatmeal, smoothies, baked goods, etc. For more ideas, we invite you to explore our Instagram page @Sperri.ca, where you can find and try out the recipes we have shared.
Ordering
You can place an online order for Sperri by clicking here. Here you will find the starter pack option(2 Vanilla Maple, 2 Chocolate, and 2 Strawberry) as well as the option to purchase each flavour in a 12 pack. Select the starter pack if you've never tried Sperri before or your favorite flavour and quantity and follow the prompts to checkout. Additionally, we provide a subscription model on our website, enabling patients to not only save on costs (10% off plus free shipping) but also customize the quantity and frequency of their orders. We are also sold in 1,500 doors nationally, if you would like to see if your local grocery store stocks Sperri, please visit our Store Locator.



To place an online order for Sperri, you will need to enter your name, a credit card, a shipping and billing address.

You can pay for online Sperri orders using a credit card

Once your order is placed, you will receive an order confirmation email within 10 minutes.

If you don't receive an order confirmation email within 10 minutes, please try again or contact us at service@sperri.ca.

Samples of Sperri must be requested by a healthcare professional. Talk to your doctor or healthcare professional to request a sample of Sperri.

Yes. If you are interested in stocking Sperri at your store, please email sales@sperri.ca and we would be delighted to start this process.
Storage & Usage
Unopened Sperri products are shelf-stable at room temperature (15ºC – 30ºC) until the date printed on the top of each unit.

We recommend refrigerating opened Sperri products and consuming within 24 hours of opening.

For optimal quality, Sperri products are intended to be stored at room temperature (15ºC – 30ºC) or refrigeration (0ºC – 4ºC).

Yes, Tetra Paks are 100% recyclable.
Shipping Information
We currently ship Sperri across Canada.

Your order will ship within two business days from the date of purchase.

We aim to ensure that you receive your order as quickly as possible. Shipping time is generally two to five business days, depending on where in Canada you are located. This does not apply to pre-orders.

Shipping costs are automatically calculated at the "enter your address" stage of the checkout process.

1 Sperri 12-pack ships = $10

2 Sperri 12-packs ship = $15

3 Sperri 12-packs or more ship = Free Shipping

Yes. Once your order ships, you will receive a shipping confirmation email that includes shipping information and a tracking number.

Sorry this happened! We will help make this right for you as quickly as possible. Please contact us by sending an email to service@sperri.ca or call us at 1-800-667-5767.

If you haven't received your order within 7 business days, please email us at service@sperri.ca or call us at 1-800-667-5767.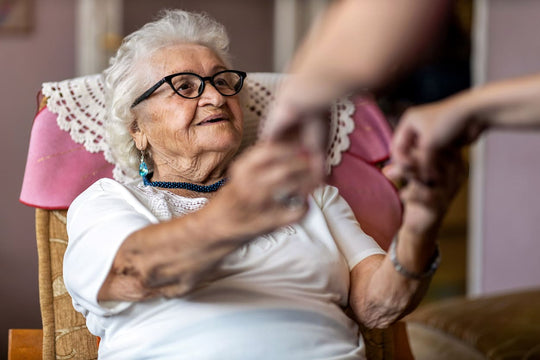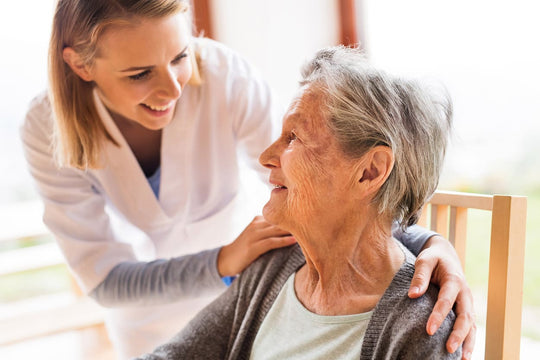 Keep peace of mind top of mind.
Sperri provides a more nutritious meal-replacement that leads to faster recovery and enhanced well-being. The taste and texture of Sperri encourages consumption, even when patients do not feel like eating. Our unique formula ensures they get well sooner and stay well longer.